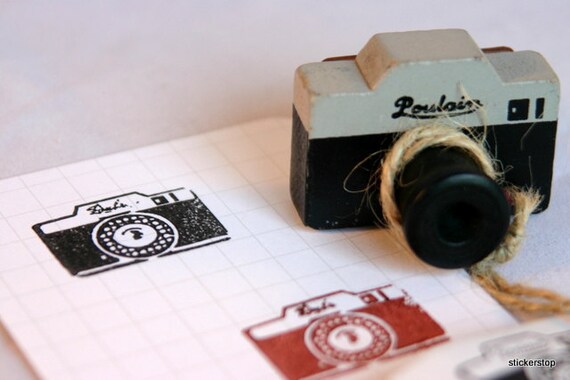 Vintage Look Wooden 35mm Camera Stamp from Japan - POULAIN version...project life
By StickerStop
Product Info
This has to be the best rubber stamp I have seen in a long time! Not only is the image great, but the stamp itself is a little decoration for your desk or work space. The stamp itself is a wooden camera - the "lens" is the handle for the stamp. The image itself is nice and crisp as you can see in the photos.
I have fallen in love with this stamp and have used it a lot on my Project Life journaling cards. I have also created some fun cards with the stamp. And it would be a great addition to your SMASH albums and or journals. Or you can just keep it as an adorable decoration!
This listing is for the POULAIN camera version.
If you are looking for the FOTKA version, please view my listing at: https://www.etsy.com/listing/102673504/vintage-look-wooden-35mm-camera-stamp
If you would like a set of BOTH stamps, please visit my listing here for a discount: https://www.etsy.com/listing/102673260/set-of-two-vintage-look-wooden-35mm
The wood camera part measures 45mm wide / 25mm tall.
The actual stamped image is around 31mm x 16mm.
This stamp is imported; it isn't something you will find in the stores in the US...so don't pass your chance to pick one of these up!