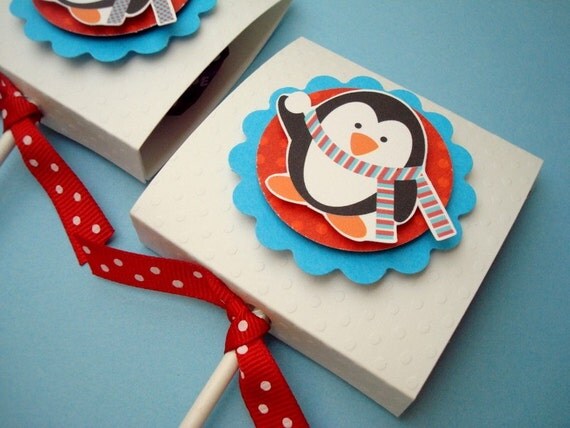 Product Info
These yummy lollipops are dressed up for a cold wintry day. The covers are made of white cardstock with little raised polka dots and decorated with red and teal embellishments. One of three different penguin images sits on top and a red poka dot ribbon is tied at the base.
This listing is for TEN lollipops and decorative covers. Each cover measures 2,1/2 inches square and 1/2 inch thick, and the stick is 2,1/2 inches long. They are shipped fully assembled and can be used for party favors, class treats, stocking stuffers, etc.
You'll receive a variety of Charms Sweet Pops. Please choose your flavor type at check out.
*Traditional flavors include cherry, orange, strawberry, grape, blue razzberry, and watermelon.
*Sweet & Sour flavors have two flavors in each pop. They include: Sweet Pineapple & Sour Grapefruit, Sweet Blue Razzberry and Sour Watermelon, Sweet Strawberry & Sour Lemonade, Sweet Mango & Sour Tangerine, Sweet Cherry & Sour Green Apple.
Price is $1.45 per lollipop. If you need a different quantity please contact me before purchasing and I'll adjust the listing.
**Shipping note for US buyers: The shipping prices listed below are for ten lollipops via First-class mail. If you need more than ten, please contact me with your zip code and I'll calculate the correct shipping for your location.**
Penguin images by Maree Truelove.