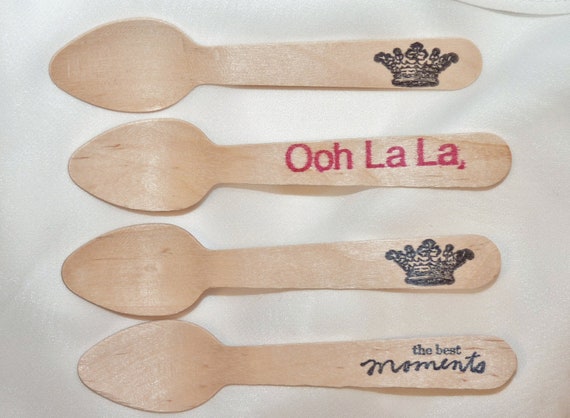 20 Wood FaNcY Tiny Girly Fabulous Cocktails and Dessert Spoons Chocolate Mousse / Pudding PoPs/ FuDgE RiPpLe Ice Cream Custom Favors
By Lola's FaNcY Party Shop
Product Info
ChOcoLate puDDiNg, Hot FuDge cAKe, FudGe RiPpLe Ice CrEaM , HOMEMADE FUDGE...JUST ADD LolA's FaNcY LittLe WooDen SpooNs and BAM!!! INSTANT HAPPY!!!
What A PERFECT 'little" GiFt !
Oh So FaNcY "SILVERware" yet biodegradable wood so after ONE use just toss away and nothing left to "Polish",... but your Nails!
*********you will get with this listing...
***20 FANCY Ooh LaLa SMALL DeSsErT WooD SpoonS
~~~~~~~~~~~~~~~~~ SMall 4 & 1/2 Inch little dessert / icecream sized spoons~~~~~~~~
4 1/4" AdOrAbLe Wooden Spoons:)
As seen in listing picture.... you will find the Spoon & Fork SETS in Lola's Shop Also!
OTHER ITEMS PICTURED Are NOT Included but ARE available in Lola's Shop:)
These are sure to bring many "Oh My's", Smiles & Giggles and i doubt many will get "left behind".
PERFECT at Brunch, Garden Parties, Picnics, Family Reunions, Birthdays, Baby Showers, Weddings and BackYard BBQ's!!!
EVERY Utinsel is HAND Stamped, Some may be a little "slanted, lighter, darker...etc..." this goes for both the Ink as well as the Wood Grain.
Again these are FUN, FANCY & Uniquely Yours :)
Getting Family & Friends Together is FUN !!! Don't Stress..."You Got This...!"
Enjoy Your Beautiful Celebration with
FaNcY Garnishes for Simply FaBuLoUs Parties :)
Lola Loves A Party