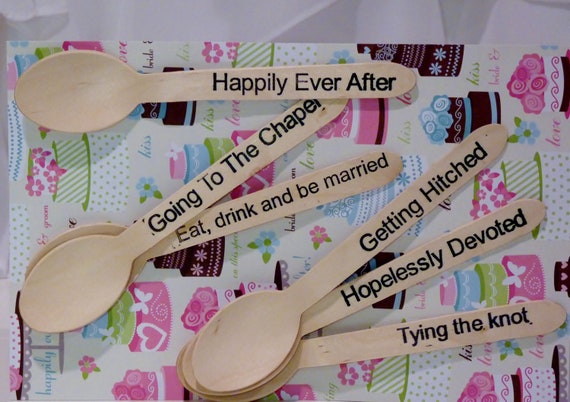 Wood Utensils Hand STAMPED Wooden Spoons - 30 WEDDING Shower Wedding, Bridal,- Party, Hand Stamped Wooden Cutlery Utensils
By Lola's FaNcY Party Shop
Product Info
Oh So FaNcY "SILVERware" yet biodegradable wood so after ONE use just toss away and nothing left to "Polish",... but your Nails
You will get 30.. ALL SPOONS..with assorted wedding phrases as shown
***you CAN Request""" 15 Spoons and 15 Forks""" ....**** But MUST KNOW**** At Time of Purchase.
spoons 5&1/2" forks 6"
~~********Other items shown in pictures ARE NOT INCLUDED with this listing.*****
These are sure to bring many "Oh My's", Smiles & Giggles and i doubt many will get "left behind".
PERFECT at Brunch, Garden Parties, Picnics, Family Reunions, Birthdays, Baby Showers, Weddings and BackYard BBQ's!!!
EVERY Utinsel is HAND Stamped, Some may be a little "slanted, lighter, darker...etc..." this goes for both the Ink as well as the Wood Grain.
Again these are FUN, FANCY & Uniquely Yours :)
Getting Family & Friends Together is FUN !!! Don't Stress..."You Got This...!"
Enjoy Your Beautiful Celebration with
FaNcY Garnishes for Simply FaBuLoUs Parties :)
Lola Loves A Party