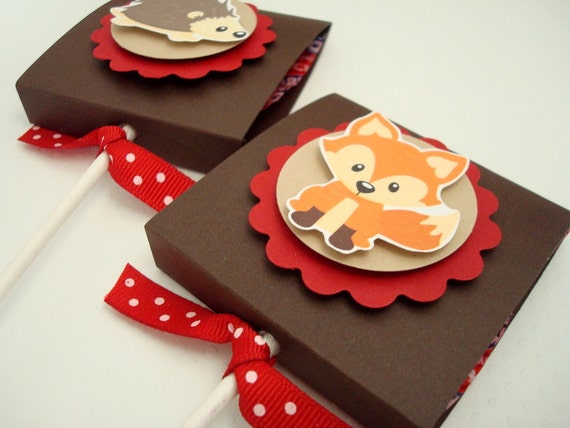 Product Info
Lollipop favors are a fun and easy way to share a treat with friends. These covers are made with sturdy dark brown cardstock and a red scallop embellishment. The animal images are carefully cut by hand and layered for a fun 3D effect. A red polka dot ribbon is tied around the base.
This listing is for TEN lollipops and decorative covers. They are shipped fully assembled and ready to share. You'll receive a variety of images including a fox, owl, bear, squirrel, mushroom & snail, fawn, acorn, hedgehog, raccoon, and bunny rabbit. If you prefer only certain images please note your preference in the "message to seller" section of your shopping cart.
You'll receive a variety of Charms Sweet Pops. Please choose your flavor type at check out.
*Traditional flavors include cherry, orange, strawberry, grape, blue razzberry, and watermelon.
*Sweet & Sour flavors have two flavors in each pop. They include: Pineapple & Grapefruit, Blue Razzberry and Watermelon, Strawberry & Lemonade, Mango & Tangerine, Cherry & Green Apple.
Price is $1.45 each. If you need a different quantity please contact me and I'll adjust the listing for you. I'm also happy to change the colors to coordinate with your event.
**Shipping note for US buyers: The shipping prices listed below are for ten lollipops via First-class mail. If you need more than ten, please contact me with your zip code and I'll calculate the correct shipping for your location.**
Woodland animals images by Pixel Paper Prints.