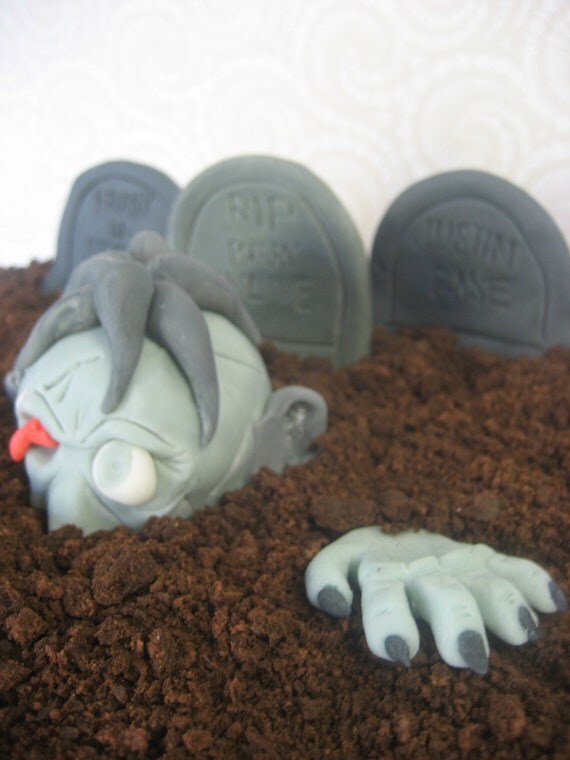 Zombie INSTA-CAKE Cake Kit - Edible Fondant Cake Topper with Bones
By Devany's Designs
Product Info
This listing is for the (half) zombie head, two hands, 3 gravestones, and bones. All are made of 100% edible fondant and food coloring.
I make a lot of cakes for people. From birthdays to wedding and everything in between. I have been asked if I can ship cakes to people who want them who do not live close by, and sadly the answer is no.
SSSOoooo...here is my solution! I came up
with this idea a while back and am just now
getting around to making it happen.
The cake kit!!!
The idea of the cake kit is that you get everything you need to turn a plain frosted cake into a masterpeice...at home...by yourself (with a little help from me!). PERFECT for the semi-professional look WITHOUT the professional price tag. ALSO great for those who like the look and NOT the taste of all that fondant!!!!
The cake in the photo is approximately 10"x10" square,
frosted with chocolate frosting,
and topped with crushed chocolate cookies.
These are not included in the listing.
Dimensions:
Zombie Head - appx. 2-3 inches diameter
Hands - appx. 1 inch
Gravestones - appx. 3 inches tall
Bones - appx. 1-3 inches long
I can customize the gravestones at no extra charge.
These toppers, while edible, are dried in order to survive the shipping process and are not inteded for consumption (especially the larger pieces).
Fondant is colored by hand so most *colors are available upon request. If no request is given you will recieve the items as pictured. Color may vary slightly from the photo.
All items are created individually, by hand. You will NOT receive the items pictured, but similar ones made by the same artist (me).
Fondant is 100% edible.
If you have an idea for a cake or cupcake toppers, please feel free to contact me for a quote!
*Some food coloring is made in plants that also process nuts.
To see some of my cake creations, see my blog here.
www.devanysdesigns.blogspot.com